Auckland scored a gold double at the New Zealand Senior National Lacrosse Tournament this weekend, after both the Auckland Men's and Auckland Women's teams won their respective finals.
In the Women's tournament, Auckland came out of the starting blocks strongly to take an early lead in the finals against opponents, Waikato. Waikato retaliated with some good play, but it wasn't enough to slow Auckland's momentum. Auckland won by a decisive 11 goals to 6 on the whistle blow.
Auckland Coach, Nigel Tan, speaking after the finals said "My focus coming into this game was to go out hard and fast. I think we found that with the experience of our players, they knew how to step up straight away, and we relied on that…. For our game plan, I really wanted to focus more on defence, to stop their fast break. We know that Waikato definitely has the wheels and the speed to get past us. So in terms of game, I think we did a really good job of stopping that. All in all, the players who played today did an amazing job!"
In the Men's tournament, Auckland Blues played off against Waikato for the first time in the tournament's history, after Waikato successfully won 2 out of 3 round-robin matches to earn themselves a slot in the finals. But the Auckland Blue side ultimately proved to too strong for Waikato in the finals, and were able to keep them check to win by 13 goals to 1.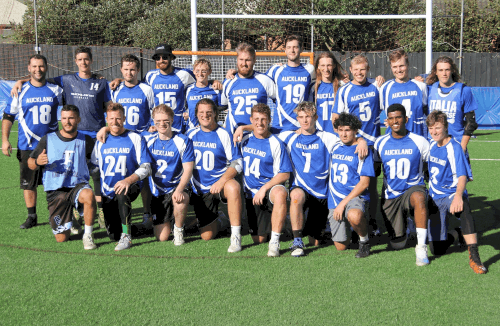 Auckland Captain Max van der Maas said after the match, "I am very happy! …We were player-led, and we didn't have a coach. We all stepped up, took leadership positions and gelled really well together."
This year, the NZ Senior Nationals Tournament is also a key selection event for the Women's NZBLAX as part of their build-up for the World Championships and World Games in 2021. Future planning for the NZBLAX will also reflect the possible inclusion of lacrosse in the 2028 Olympic Games. 
Head Coach for the NZBLAX campaign is Dave Simpson, who brings over 35 years of coaching experience with him to New Zealand.
Speaking at the tournament prize-giving, Simpson said "It's been an amazing weekend of lacrosse for me. It's been my first chance to see the best players throughout New Zealand bring their best effort as they compete at the highest level. It's been inspiring!'
"Lacrosse remains the fastest growing sport in the world, and nowhere is it growing faster than in New Zealand. I'm personally inspired by the possibility of lacrosse being part of the 2028 Olympics, and with this base of talent and commitment I feel that we have the possibility to not only make it to the Olympics but to perform really well there."
Results
Women's Senior Nationals Tournament 2020
Auckland A

Waikato A

Waikato B
Men's Senior Nationals Tournament 2020
Auckland Blue

Waikato

Auckland White