New Zealand Lacrosse ('NZL')
This is the governing body for all Lacrosse in New Zealand.
In 2020, the NZL constitution was established and accepted by both the Men's and Women's associations to merge together to form the new governing body of New Zealand Lacrosse (NZL). The NZL board was then formed in 2021.
History of Lacrosse in New Zealand


Over two decades ago, a few English and American ex-pats found each other through searching links in New Zealand to their favourite sport. Their reluctance to give up their extra appendages (their lacrosse sticks) instigated the passion to start and grow the sport in New Zealand.
In 2000, a men's senior league was started in Auckland, and a year later, the women's league was established.
The efforts of the original founders resulted in tremendous growth in schools, clubs and national representative teams. Over the decades, lacrosse has been integrated into many schools' athletic curriculum, with over 20 schools and 500 players participating in the Auckland Secondary Schools League. An estimated at least 900 school children across New Zealand are learning and playing the sport, or its modified version, 'Modcrosse,' at youth level each year.
National leagues are constantly growing with associations in Auckland, Wellington, Hamilton, Manawatu and Canterbury. Club teams from each region compete in the official National Tournament held annually in January.
Just two years after its inception, New Zealand sent its first men's team to the ILF World Cup in Perth, Australia, while it was in 2005 the Women's National Team went to the IFWLA World Cup in Annapolis, USA. Further, the Women's National Team (NZBLAX) growth is fostered by the Under-19 National Squad, who competed for the first time in 2007 at the Junior World Championships and the Development Squad. U15 and U18 teams regularly compete in the Australian National State Championships, helping to grow the skill level.
But the history of lacrosse in New Zealand goes back very far into the late nineteenth century. In 1877 there was already talk of establishing lacrosse clubs in New Zealand and Australia.
The first known game was August 1st 1877 in Alexandra with the Armed Constabulary playing Civilians, although there probably were other games played earlier. In Timaru by 1881 the import of lacrosse gear was being advertised
By 1885, teams were actively competing all over the country – Invercargill May 1885 as an example. Even a New Zealand V World event occurred (won by New Zealand 6-0). However, the arrival of World War I, its devastating impact on male players and the dominance of rugby as New Zealand's most popular contact sport took over and we have few records of the game in the mid-twentieth century for men. Women though were still playing in some schools – such as Nga Tawa School in 1939.
It is of interest that some players took their lacrosse sticks to the front line in World War I and used then to throw grenades into the opposing trenches – skills we hope never to have to use again!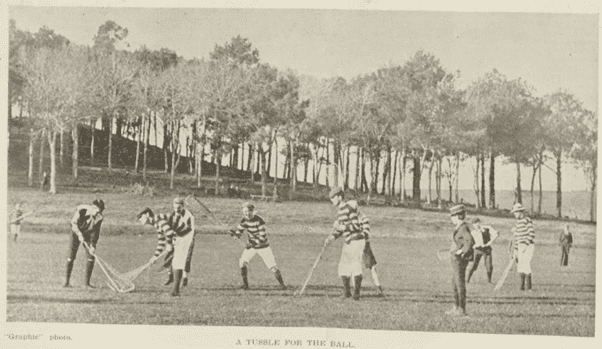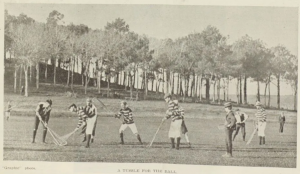 See below for some interesting links:
Newspaper Articles:
(Credit: National Library of New Zealand)
Lacrosse in Auckland, 1885
Lacrosse in Invercargill, 1885
Lacrosse Auckland vs. Wellington, 1907
Images: 
Wellington Lacrosse Team, 1885 (Credit: Alexander Turnball Library, Wellington)
First Auckland Lacrosse Team, 1900 (Credit: National Library of New Zealand)
Shamrock Lacrosse Team, Auckland, 1904 (Credit: Sir George Grey Special Collections, Auckland Libraries, AWNS-19040929-16-2)
Lacrosse Carnival in Devonport (Auckland) (Credit: Auckland Library)
Auckland Lacrosse Association's Championship (1900s) (Credit: Auckland Library)
Auckland Lacrosse Association (1890s) (Credit: Auckland Library)
Fancy dress lacrosse match, North Shore, 6 October 1900  (Credit: Auckland Library)
Another Fancy Dress image Auckland (1900) (Credit: Auckland of New Zealand)
Nga Tawa College 1937 (Credit: National Library of New Zealand)