The 2021 New Zealand U18 National Championships delivered two days of great lacrosse at Tamahere Park in Hamilton. A total of 7 teams from Auckland, Wellington and Waikato participated in this year's event, with 5 in the Girl's Tournament and 2 in the Boy's Tournament. Marina Samountry from New Zealand Women's Lacrosse commented that she was thrilled with the high level of lacrosse on display over the weekend, and the skilled shown by the players.
For the first time, the U18 Championships were held in March rather than in September. Certainly, the new date was a success on the weather front, as the Waikato switched on two days of uninterrupted sunshine.
Samountry acknowledged the players for their lacrosse skills, fair play, and camaraderie, the coaches for their help in developing the players, the umpires and referees for giving their time over the weekend, and to Waikato Lacrosse, with particular thanks to Matt Gould and Tara Vrensen, for their support in setting up and running the tournament.
Girl's U18 National Championships
The Girl's Tournament had 10 round robin games on Saturday with the semi-finals on Sunday morning, from which Waikato A and Auckland A secured their spots in the finals. The finals proved to be a game of two halves, with Waikato making a strong start for a 6-goal lead at half-time. Auckland responded in the second half to slow the Waikato attack and score a few of their own for a final score of 7 goals to 3 to Waikato.
Anri Kruger, coach for the Waikato side, commented "the girls played so, so well and we are really proud of them. That is probably the best game that they played all tournament. We had a bit of an up and down system going on yesterday, and then today to come out and play out of their skins was just amazing to see."
Au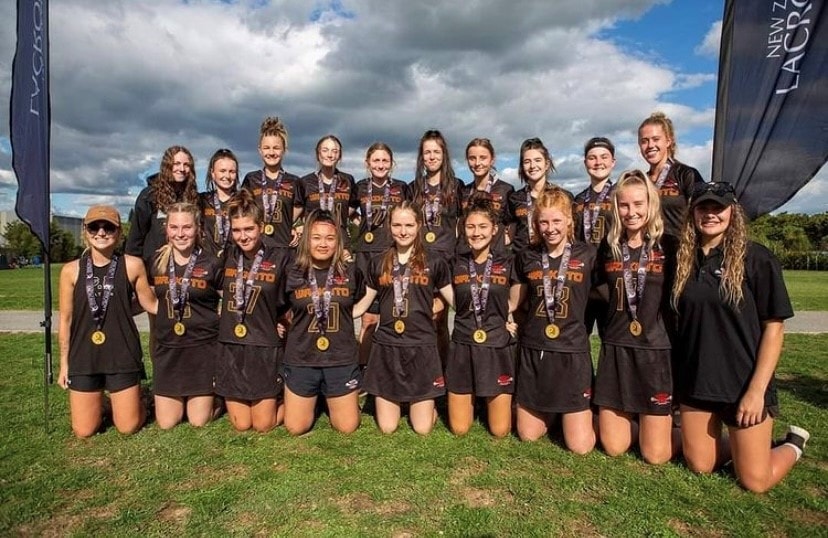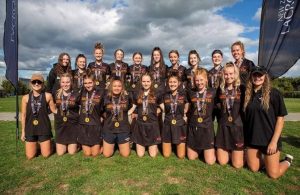 ckland Head Coach Hilary Eyres observed "I think we are disappointed to come away in second. The Waikato team just came out firing! It's hard to come back from a 6-goal deficit, but I think we really turned it on in the second half."
Speaking about the tournament, she added "There was a lot of really good team play across the whole tournament. I love that! We just keep looking for the growth and development of the players over a weekend… It is really nice to play a great, competitive, aggressive team with smart lacrosse skills that really makes you have to think and adjust your play."
"It is really nice to play a great, competitive, aggressive team with smart lacrosse skills that really makes you have to think and adjust your play." Auckland Head Coach Hilary Eyres
Asked if the recent Auckland lockdown had affected preparations for Auckland Lacrosse, Eyres added "again, we missed a couple of trainings. It was all kind of truncated and that impacts the players, impacts mentality, and impacts ability to develop, but we are just grateful that we can play safely."
Boys' U18 National Championships
The Boys' Tournament was the best of three games between Auckland and Waikato. The first game was close and went 7-5 to Auckland. The second game went to overtime, with both teams locked at 7 goals each at full-time. Auckland won in golden goal, which secured them the overall win and U18 Boys National Championship title for 2021.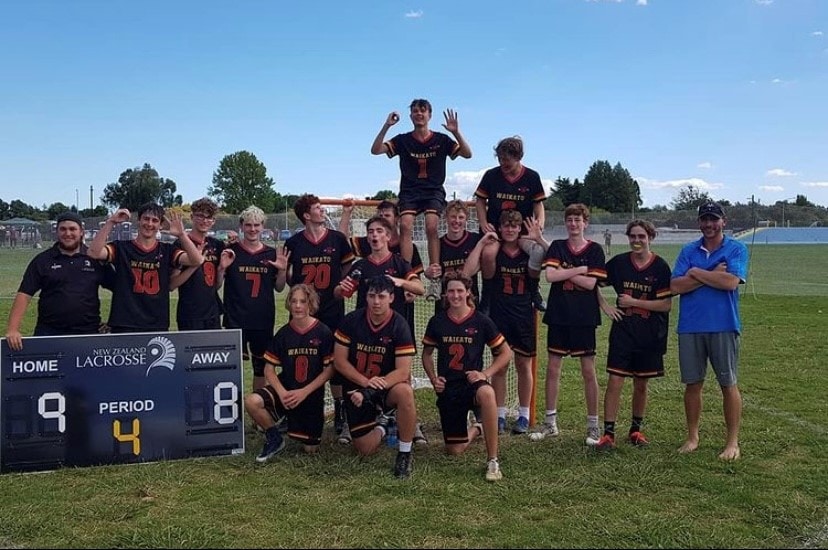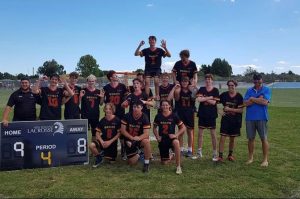 Although the overall result was settled, both teams were keen to play the third game so they could have as much game-time as possible. In this third and final game, Auckland pulled ahead to a strong early lead of 7 goals to 2 at half-time. Waikato picked up the attack in the last two quarters and held on to win by 9 goals to 8 in the most passionate match of the tournament.
Max van der Maas from New Zealand Lacrosse commented "it was really competitive! Two games were within two goals, so anyone could have won on the day. Both teams had pretty good numbers. We had 17 or 18 guys on each team. A lot of penalties, but that shows the passion and heat of the game, and how close and competitive it was!"
Waikato Head Coach Lucas Thom observed "unfortunately we lost the first one, they didn't start off as well as we hoped, but then picked it up in the second half. Second game, went down to golden goal. And then the third game, I'm so proud of them in this one! Down 2-7 and then to come back to win it 9-8. It's just heart and great to see!"
Written by: Harriet Lamb – Publicity – Waikato Lacrosse


New Zealand U18 National Championships 2021 Results
13-14th March 2021, Tamahere Park, Tamahere, Hamilton
Girl's U18 National Championships
1st – Waikato A
2nd – Auckland Blue
3rd – Waikato Development
4th  – Wellington
5th – Auckland White
Boy's U18 National Championships
1st – Auckland
2nd – Waikato