New Zealand Women's Lacrosse launched their latest initiative ‒ the U15 Academy ‒ at the NZ Senior Nationals Tournament at the weekend.
The launch signified the start of a commitment from the NZWLA to develop younger up-and-coming players throughout New Zealand, so that they can receive top-level coaching in a fun-focused environment, learn about the NZ High Performance programme, and be exposed to the concept a high performance pathway so they can make informed decisions throughout their playing career.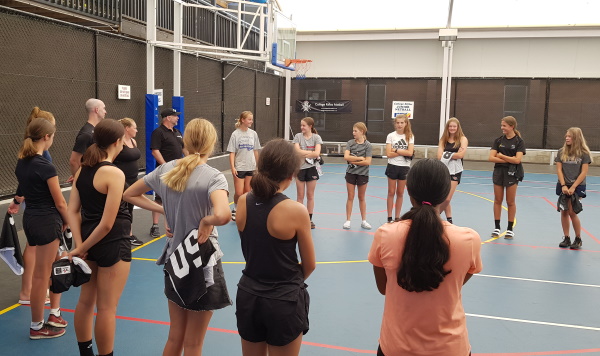 The concept has been developed and nurtured by NZWLA High Performance Director Damon Jakeman alongside Head Coach, Dave Simpson, with support from Assistant Coaches Casey McLain and Allyson Howard, and Manager Greg New.
The U15 Academy is the product of a long-term vision held by the NZWLA to prepare for future World Championships, as well as the possibility of the Olympic Games in 2028.
New Zealand is currently ranked 8th in the world in women's lacrosse. With lacrosse now the fastest growing sport in the country and with over 2000 players involved in the game, there is a firm belief within the NZWLA High Performance camp that New Zealand can improve on this ranking.
Coach Dave Simpson said at the weekend "Participation in women's lacrosse is growing in leaps and bounds in New Zealand, and the U15 Academy is one way for us to connect the participation growth with high performance. We want to introduce young athletes with high performance potential to national level coaching and offer them information and support to make decisions which enhance their journey to possibly represent New Zealand on the international level at World Championships, World Games, and possibly even the Olympics."
"In the short run, we hope to inspire a generation of young athletes to make lacrosse their sport of choice, and to see beyond just playing for school and club with a view to representing their country via the U19, U23, and NZBLAX national teams. Additionally, we want these players to go back to their school and club programs with the knowledge they've gained at U15 Academy camps and raise the standard of lacrosse at every level in the country."
"Ultimately, the true long term success of the Academy will be measured by generating a much larger pool of high performance athletes, and helping to fulfil our mission to improve on our country's #8 world ranking. We have the talent and the numbers to make this possible, and the U15 Academy is by way of providing the opportunity."
The first Academy at NZ Senior Nationals was an Introductory Day with 25 players from around New Zealand. After a formal introduction from the NZWLA team, the players watched the Senior Women's Finals, before heading out on the field for a fun 2-hour training session with the full NZBLAX coaching team. Three further camps are planned for 2020 under Simpson's watchful eye.
Speaking after the session, Academy player Isabelle Vrensen said "It was really good learning with girls your own age because we are usually with girls and learning "up" instead of learning "with". The coaches were really good and really positive ….and kept us focused!" 
Player Katie Hollands added "It's so inspiring helping us practice. It was really enjoyable, nice and friendly people. It wasn't scary, just inspiring!"
FOR MORE INFORMATION
Contact: Damon Jakeman, High Performance Officer, New Zealand Women's Lacrosse Association
E-mail: damon.jakeman@pns.co.nz